Overview
The science of personalized value development through adolescence: integration of brain, real-world, and life-course approaches
Principal Investigator: Kiyoto Kasai, M.D., Ph.D.
(Professor, Department of Neuropsychiatry, The University of Tokyo)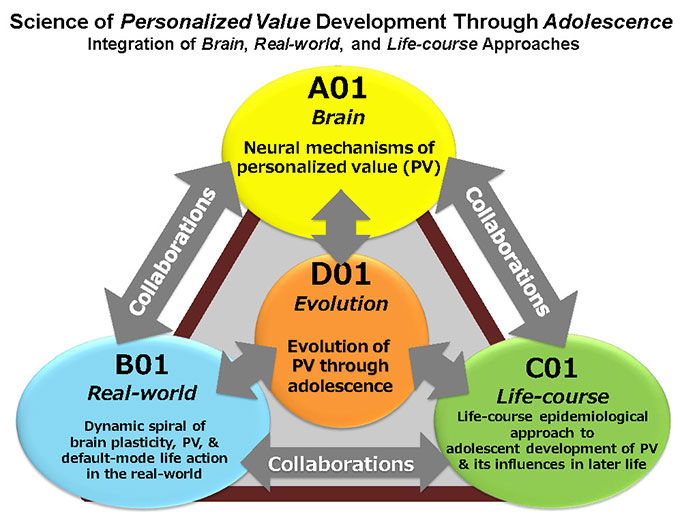 Purpose of the Research Project
Our project aims at establishing an interdisciplinary scientific field that will be dedicated to the development of "personalized value" through adolescence by integrating brain, real-world, and life-course approaches.
Human adolescence is far longer than that in non-human primates and is the life stage in which the cerebral neocortex matures. While childhood is associated with trans-generational incorporation of parental values, adolescence is characterized by social interactions with peers. Through such influences, a person's value is internalized and personalized to become "personalized value".
Content of the Research Project
A01 aims at uncovering the neural basis of personalized value. Here, value development can be modeled as the psychological process in which adolescents acquire the ability to control the conflict between value memory and actual behavior by using self-regulation, including meta-cognition and language (inner-speech).
B01 considers the "real-world" as a modulatory factor in the neural basis of value development. Here, we propose a spiral model where active interactions with the real-world influence value development, which then shapes patterns of action in life, in turn inducing plasticity in the brain circuit.
C01 will use life-course epidemiology to understand how personalized value is developed in adolescence and how it influences later life. The Tokyo TEEN Cohort will be the main studied population.
By integrating brain (A01), real-world (B01), and life-course (C01) approaches, D01 will deepen the conceptual framework of personalized value. We will then develop psychosocial intervention strategies to evolve personalized value.
Expected Research Achievements and Scientific Significance
Our project will propose a new interdisciplinary science of the "action brain", where we clarify how the brain evolves personalized value through adolescence to actively influence the social environment and pursue subjective well-being. Our findings will ultimately contribute to policy-making concerning education and health promotion in adolescence.
Key Words
Adolescence: a developmental stage from the onset of puberty through maturation of the neocortex.
Personalized value: a person's inner drive for long-term action, which will be internalized and personalized through adolescence.
Research Organization/Members
Principal investigator
Kiyoto Kasai

The University of Tokyo Graduate School of Medicine Psychiatry

Neuroimaging
International Advisory Board
Marcus Richards

MRC Unit for Lifelong Health and Ageing,
MRC National Survey for Health and Development,
Medical Research Council

Cognitive Epidemiology

Louise Arseneault

the Institute of Psychiatry,Psychology and Neuroscience
at King's College London

Biomedical Science,
developmental psychology
and epidemiology

Elaine F. Walker

Samuel Candler Dobbs Professor of Psychology and Neuroscience
Department of Psychology, Emory University

Psychology,
Neuroscience

Nicholas B. Allen

Ann Swindells Professor of Clinical Psychology
Department of Psychology
University of Oregon

Clinical psychology,
Cinical Neuropsychology

Iroise Dumontheil

Reader (Associate Professor) in Cognitive Neuroscience,
Department of Psychological Sciences, Birkbeck, University of London

Neuroimaging

George Patton

Centre for Adolescent, University of Melbourne

Epidemiology,
Adolescent Health

Russell Viner

Adolescent Health, Institute of Child Health,
Faculty of Population Health Sciences,
University College London

Global Health,
Adolescent Health

Johan Ormel

Department of Psychiatry,
University Medical Center Groningen,
University of Groningen

Psychiatric Epidemiology

Noriko Cable

International Centre for Life course Studies in Society and Health,
Department of Epidemiology and Public Health,
University College London

Epidemiology and
Public Health

Tomas Paus

Tanenbaum Chair in Population Neuroscience,
Professor of Psychology and Psychiatry, University of Toronto,
Canada, & Dr. John and Consuela Phelan Scholar, Senior Scientist,
Center for the Developing Brain, Child Mind Institute, New York, USA

Population neuroscience,
Psychiatry

Sheung-Tak Cheng

Chair Professor of Psychology and Gerontology,
The Education University of Hong Kong

Positive psychology

Charles E. Irwin, Jr.

Distinguished Professor of Pediatrics,
Department of Pediatrics University of California,
San Francisco School of Medicine

Adolescent Medicine and
Pediatrics

Trevor Robbins

Professor of Cognitive Neuroscience and Experimental Psychology and Head
Department of Psychology
Behavioural and Clinical Neuroscience Institute
University of Cambridge

Cognitive and Behavioural Neuroscience
Systems and Computational Neuroscience

Sarah Sullivan

University of Bristol

Director, Psychosis Health Integration Team
Evaluation Committee members
Takashi Igarashi

National Center for Child Health and Development

Emi Ikebuchi

Graduate School of Medicine, Department of Psychiatry, Teikyo University

Masanobu Kanou

Department of Neurophysiology, Division of Functional Biology, Graduate School of Medicine, The University of Tokyo

Toshikazu Hasegawa

Graduate School of Arts and Sciences Department of Life Sciences, The University of Tokyo

Teruhiko Higuchi

National Center of Neurology and Psychiatry
X00 Steering Committee members
Project Leader
Kiyoto Kasai

Graduate School of Medicine, Department of Psychiatry, The University of Tokyo
Co-Researchers
Kohji Ishihara

Graduate School of Arts and Science, The University of Tokyo

Syo Yagishita,Toshiya Murai,Ryu-ichiro Hashimoto,Takashi Sato,Eiji Aramaki,Masahiro Nochi,Yasumasa Okamoto,Miki Bundo
Saori Tanaka,Mariko Hasegawa,Atsushi Nishida,Norito Kawakami,Masato Fukuda,Toshiaki Furukawa,Satoshi Usami
Y00 International Research Support Group
Project Leader
Kiyoto Kasai

Graduate School of Medicine, Department of Psychiatry, The University of Tokyo
Co-Researchers
Saori Tanaka,Toshiya Murai,Atsushi Nishida,Mariko Hasegawa,Shuntaro Ando,Syudo Yamasaki,Shinsuke Koike
Norito Kawakami,Shinsuke Kondo,Yuki Miyamoto
A01 Brain
Project Leader
Saori Tanaka

Brain Information Communication Research Laboratory Group, Advanced Telecommunications Research Institute International(ATR) ATR
Co-project Leaders
Ryu-ichiro Hashimoto

Graduate School of Humanities, Tokyo Metropolitan University

Syo Yagishita

Graduate School of Medicine, The University of Tokyo

Hironori Nakatani

Graduate School of Arts and Sciences, The University of Tokyo
Co-Researchers
Kazuo Okanoya

Graduate School of Arts and Science, The University of Tokyo

Fumitaka Homae

Graduate School of Humanities, Tokyo Metropolitan University

Shinsuke Koike

Graduate School of Arts and Sciences, The University of Tokyo
B01 Real-world
Project Leader
Toshiya Murai

Graduate School of Medicine, Kyoto University
Co-project Leaders
Masato Fukuda

Graduate School of Medicine, Gunma University

Takashi Sato

National Instisute of Techonology, Okinawa College Department of Media Information Engineering
Co-Researchers
Takashi Hashimoto

Japan Advanced Institute of Science and Technology School of Knowledge Science

Mariko Tada

Graduate School of Medicine, The University of Tokyo

Akira Masumi

Okinawa College Department of Media Information Engineering
C01 Life-course
Project Leader
Atsushi Nishida

Department of Psychiatry and Behavioral Science, Tokyo Metropolitan Institute of Medical Science

Co-project Leaders

Norito Kawakami

Graduate School of Medicine, The University of Tokyo

Syudo Yamasaki

Department of Psychiatry and Behavioral Sciences, Tokyo Metropolitan Institute of Medical Science

Co-Researchers

Shuntaro Ando

Department of Psychiatry and Behavioral Sciences, Tokyo Metropolitan Institute of Medical Science

Satoshi Usami

Graduate School of Comprehensive Human Sciences, University of Tsukuba

Toshiaki Furukawa

Graduate School of Medicine, Kyoto University

Yukiko Kano

Graduate School of Medicine, The University of Tokyo

Tsuyoshi Okamura

Graduate School of Medicine, The University of Tokyo

Ko Murayama

Department of Psychology, University of Reading
Research Organization, Kochi University of Technology

Mariko Hasegawa

School of Advanced Sciences, Graduate University for Advanced Studies

D01 Evolving

Project Leader

Kiyoto Kasai

Graduate School of Medicine, The University of Tokyo

Co-project Leaders

Yasumasa Okamoto

Institute of Biomedical & Health Sciences, Hiroshima University

Masahiro Nochi

Graduate School of Education, The University of Tokyo

Eiji Aramaki

Institute of Research Initiatives, Nara Institute of Science and Technology

Miki Bundo

Faculty of Life Sciences, Kumamoto University

Co-Researchers

Shinsuke Kondo

Graduate School of Medicine, The University of Tokyo

Yuki Miyamoto

Graduate School of Medicine, The University of Tokyo

Hitoshi Kuwabara

Disability Services Office, The University of Tokyo

Kayo Ichihashi

Graduate School of Medicine, The University of Tokyo

Motomu Suga

Graduate School of Medicine, The University of Tokyo

Shinichiro Kumagaya

Research Center for Advanced Science and Technology, The University of Tokyo

Noriaki Yahata

Department of Molecular Imaging and Theranostics, National Institute of Radiological Sciences

Kazuya Iwamoto

Faculty of Life Sciences, Kumamoto University